I'm a HUGE believer of the benefits of drinking tea. I trust that tea is an overall body, mind and spirit booster. I try to drink at lease one cup of tea a day. One benefit that girls will love is it boosts your metabolism (especially green tea). Drinking 5 cups of green tea per day could help you burn an additional 60-80 calories. Green tea contains caffeine (not as much as coffee, though). So drink some green tea if you need an energy boost! Moreover, tea contains fluoride and keeps your smile bright and white!
It's also great for your health. Drinking tea greatly boosts your immune system and can help fight off many diseases. It is also a great remedy for colds and sore throats. Teas also contain antioxidants, which can protect your body against harmful pollutants as well as prevent the aging process. Many research studies have shown that drinking tea can help prevent cancer as well as shrinking already grown tumors in your body. Furthermore, tea keeps your heart healthy and can prevent blood clots and heart attacks. This magical substance lowers LDL (bad) cholesterol and delay cardiovascular disease.
Overall, drinking tea regularly can help you live a longer and healthier life. Here are some of my favorite teas:
My favorite green tea (not flavored):
This tea is perfect if you are feeling under the weather and to soothe a sore throat:
I love drinking this tea right before bed. I don't think it helps put you to bed but it does relax you:
Chai tea is one of my newest favorites. I love chai tea lattes (hot or cold) and this hot chai tea with vanilla tastes similar to gingerbread with all of the delicious spices:
I also LOVE peppermint tea. I drink this mostly in the fall and winter time but the minty flavored tea can be used any time of the year for a refreshing hot drink:
This Sugar Cookie Sleigh Ride tea is by far the BEST holiday tea! (just beware - it does have gluten so gluten intolerant people, like myself, should limit themselves to this tea):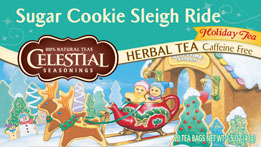 Any teas you love that I didn't mention?? Let me know!