Night creams are an extremely important part of your nighttime skincare routine. They repair your skin while you sleep, deeply moisturize and help prevent aging (obviously)! However, these little pots can cost from fifty to hundreds (yes, hundreds) of dollars! Sure, some of them are worth it, but who has the money to buy those expensive night creams every month?? I have a solution for you :) ...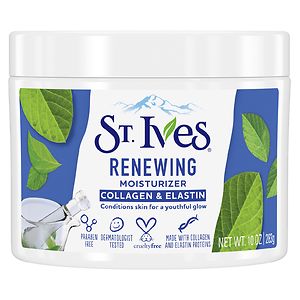 As recommended by dermatologists, past users, and even Dr. Oz, St. Ives Timeless Skin Collagen Elastin Moisturizer is an AMAZING anti-aging night cream. As it says on the tub, it "visibly reduces appearance of fine lines & wrinkles." I don't have wrinkles, yet, but have read many reviews of this product and have come to find that this statement holds true. The consistency is light and fluffy - almost a whipped-type texture and it has a light smell - not overpowering at all. At only about $6.99 at the drugstore, you get 10 oz of product!!! Most night creams are only 1-2 ounces and are super expensive. You can't beat the deal of this moisturizer!
This Timeless Skin Moisturizer does say you can use it both morning and night, but with my oily skin it would just be too oily and moisturizing to use under my makeup. If you have dry skin and are happy with this product in your morning regimen, let others know in the comments!