When you paint a room you use a primer first. So why not use a primer before applying makeup? I always always always use a primer before I put on any makeup. I hate the feeling of makeup going on my face without one. But what's the purpose of a primer?
-Helps your makeup last longer and stay in place
-Absorbs oil from your face
-Prevents your makeup from creasing
-Makes it easier to put on makeup
-Reduces the appearance of pores
My favorite type of primer is one with a silicone base. I feel that these work the best and help your makeup last the longest, plus I just like the feel of them as opposed to a creamy primer. There are many low-end and high-end primers, but my favorite primer isn't ACTUALLY a primer – it is the Monistat Soothing Care Chafing Relief Powder Gel. Don't be freaked out - haha! (This product is NOT used for yeast infections!!!) But this is truly the best primer I have ever found. It has a silicone base and is moisturizing. It makes your skin silky smooth and eases the application of your foundation. Plus, this primer has never broken me out!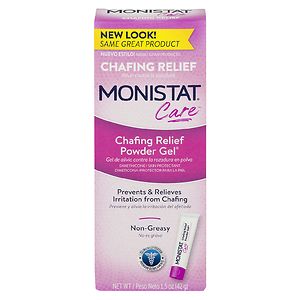 I still haven't been able to find this product at my drugstore but I know other people have found it at their local drugstores. However, I usually buy mine off of Amazon.com and it is only $5 - $6! This tube is 1.5 oz and lasts for months!
If you're in the market for a new primer, try the Monistat Soothing Care Chafing Relief Powder Gel! You won't be disappointed!