If you have ever been to target, I'm sure you have seen the crazily inexpensive products from E.L.F. You know I love my high end products but I am constantly surprised with the brand E.L.F (stands for eyes lips face). The majority of their products range from $1 to $5 and the quality of their products is AMAZING. Of the products I have tried, they are all compareable to high end products. E.L.F. products are perfect if you're looking for budget-friendly products that are high quality at the same time. So, I wanted to share with you my favorite products from E.L.F. that I've tried!
My obsession is makeup brushes and, let me just say, E.L.F. brushes are some of the BEST brushes I have ever found. The two that I use everyday (and will NEVER be without) are the Kabuki Face Brush (top) and the Powder Brush (bottom). These brushes are so soft and dense and feel like they should cost $40 (but they're only around $3 - $5!)
I always set my foundation no matter what! I feel that setting foundation helps it last all day, keeps you matte, and makes foundation look more natural and less cakey. This High-Definition Powder is an amazing powder to use for setting! The only downside is the packaging – It is bulky and a little messy but I can look past that for the low price and amazing product!
As you can probably tell from my blog, I love contouring my face. For some reason it's just fun for me (I'm weird, I know). E.L.F. has an amazing Contouring Blush & Bronzing Powder Palette. This bronzer is matte and is another great dupe for Benefit's Hoola Bronzer. This blush is also a great color if you want a neutral look with a little color and shimmer to your cheeks.
Winging your eyeliner is such a popular beauty trend. It took me a lot of practice to get it right and even on both sides, but if you have the right liquid eyeliner, it can be SO MUCH EASIER to apply! E.L.F's Liquid Eyeliner has the perfect formula and the most precise brush. Plus, this eyeliner is only $1!!!!!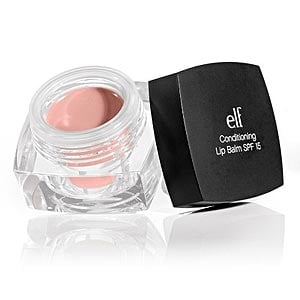 My last, but not least, favorite E.L.F. product is BY FAR is the Conditioning Lip Balm. I've only tried the color Nice and Natural but will definitely try the others! It has shea butter in it and is so moisturizing and gives just the right amount of color and gloss to your lips. Plus it has SPF to protect your lips! If you only try one of these E.L.F. products, I suggest this one to try!
(I tried to go to the website to find out prices to list for you guys but the website is down due to Hurricane Sandy. On that note – I am thinking and praying for everyone on the East coast and everyone affected by Hurricane Sandy. I hope that you all are safe and leave a comment below if you live on the East coast and let me know how you're doing!)