I'm back everyone! I'm so sorry for not writing in a while but I had a lot going on. So in light of the holidays I decided to write a fun blog about some of my favorite holiday 'things.' Some are beauty products, some are fashion, and some are random. Comment below of some of your favorite holiday products that I should try, as well!
I believe that the holidays is a time to wear glitter - it goes well with Christmas as well as new years! I love putting this NYX Crystal Glitter Liner on either my top or bottom lash line for an extra
sparkle
. My favorite is in the color Crystal Silk.
In the winter, my face gets very dry and dull. One product that really helps liven your face up is a good highlight. My favorite for winter is Lola's Treat'n'Glo Skin Perfecting Highlighter/Blush Duo (FYI: I don't use the blush -- just the highlight!) in Get Cheeky. I like this highlight because it is more of an ivory shade which works well with lighter skin (let's face it -- we get paler in the winter).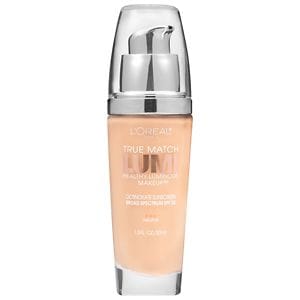 Another product that would be perfect for brightening up your face in the winter is L'Oreal's True Match Lumi Healthy Luminous Makeup. This foundation perfect to make your skin glow! (I wouldn't recommend this for oily skin though!!)
Whether your hair is damaged or not, it always looks a little duller in the winter. My favorite way to get shiny hair is to make a hair mask out of pure coconut oil! Just heat it up in the microwave for a few seconds, spread it on the ends of your hair (you can put it on the top of your head if you don't have oily hair) and leave it on for about 30 minutes. Wash it out and, there you go, beautiful shiny hair!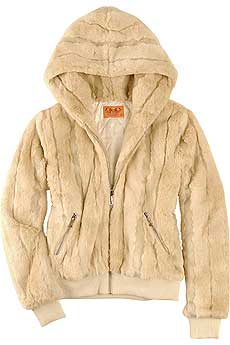 FUR FUR FUR! I love fur (mostly faux fur!) I think fur can make any outfit look glamorous while staying warm. Fur jackets for the winter are my favorite. This one is actually the exact one I have by Juicy Couture. I also love H&M's fur vests - they're so easy to style and are super inexpensive!
What girl doesn't love party dresses? Short, frilly, and girly! During the holiday season, you can get away with wearing all sorts of party dresses. I first saw this dress (from Forever 21) in stores a few weeks ago and instantly fell in love!
Another holiday favorite of mine, which probably isn't a surprise to you, is the Peppermint Mocha from Starbucks. Nothing hits the spot like a little warm chocolate and peppermint :)
And last, but certainly not least, I can't forget the Christmas movies! During this time of year I am constantly watching Christmas movies. Let me know your favorites in the comments!!